This month we spoke with Blue Star Geologist Emily Wiggins.
One thing Blue Star Gold prides itself on is developing the next generation of geologists and capitalizing on their education and fresh ideas to propel the Company forward. One junior geologist, Emily Wiggins, is a prime example of growing new talent while learning from her, too.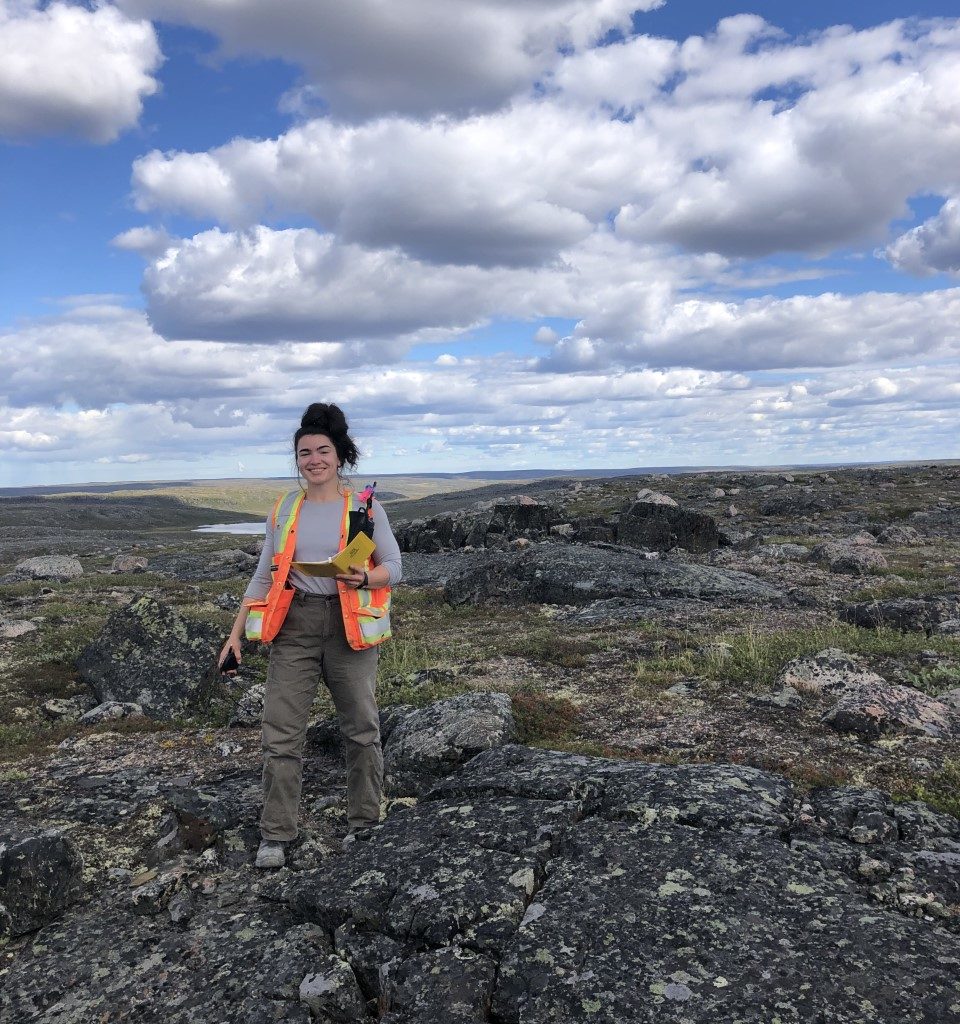 Emily earned a Bachelor of Science degree from the University of British Columbia in 2021 and has worked for Blue Star ever since. While she was born in Vancouver, she grew up in Belgium and returned to her roots for her undergraduate education. Emily credits Blue Star with her motivation and deep dive into Canadian mining but recognizes that Nunavut is a challenge
"We have so much we'd like to get done in the short Arctic summer, so working efficiently, adapting throughout the season, and prioritizing as the season progresses is critical," she said.
Blue Star's investment in cutting-edge technology, though, has reaped benefits for the Far North operation. "The DetectORE™ process is an innovative new technology that allowed us to process and analyze till samples efficiently on site," she said. "Last year, till samples were sent to an external lab and results took months. It's been great to receive preliminary results and identify anomalies only a few days after sample collection."
Emily also mentioned that using a Trimble to survey historical drill collars and a drone to collect high-resolution imagery increased the team's confidence in historical data garnered from previous companies working on Blue Star properties. Use of the latest technology is a leg up for a young geologist in a remote site, but Emily also relishes Nunavut's serenity and interaction with nature.
"Last year a few coworkers and I were out mapping and preoccupied with an outcrop," she said. "At one point a senior geologist looked up and realised there was a herd of musk oxen with calves only a couple hundred metres from us. We all scampered up a cliff to get out of their way, but it was an excellent reminder to scan the horizon for wildlife more often!"
The remote work also means everyone must stay on their toes. Safety is always a priority, but when there's limited medical resources at camp and the nearest hospital is several hundred kilometres away, everyone does their part to keep each other safe.
"I'm lucky to have great mentors and coworkers at Blue Star, both men and women, and I have always felt comfortable and supported by them in the office and the field," Emily commented. "We've had periods when all the geologists in the area were women, which has been fun, and in my experience, having more women on-site contributes to a more positive and safe work environment."
She also quipped that bringing lots of books, podcasts, and extra bug netting into the field was supremely important.
Overall, Emily says working for Blue Star has been a wonderful opportunity and she enjoys the variety.
"I could be core logging, till sampling, prospecting, and mapping in a single week at camp. With Blue Star being a smaller company, I also get to be involved in planning and executing the drill program and other exploration activities. Having the opportunity to explore and work in the Arctic, and to learn more about the region from my coworkers that live in Kugluktuk, has been an incredible once-in-a-lifetime experience.